Important Notice:
In light of the concerns regarding Covid-19, and mindful of the advice of the Government, we are not currently meeting indoors on Sundays. However, we usually have an outdoors meeting in the church grounds every Sunday at 10:30 am under a marquis, and hope you can join us for this.  We will be recommencing indoors worship in the near future.
Our other events are also slowly reopening.  This includes:
Messy Church – we will be starting with a party on Saturday 30th October. More details very soon!

Royal Rangers – this has been running face-to-face since April. After our summer break, we restart on Saturday 25th September at 10:30.  Be there!

Ladies' breakfasts – our first face-to-face event will be the Christmas Special on Saturday 12th December.
In the meantime, stay connected with us and contact us if you need any help, support or wish to hear an encouraging voice!
Welcome to
Birtley Community Church
We  are a friendly Family Church with a love for Jesus, which we  love to share with the community around us.
Sunday Meetings 10:30 am
Children's activities and creche are available
Royal Rangers, Tuesday 6-7 pm
For 5-17 year olds.
Messy Church, 1st Saturday each month
For 3-10 years olds. 2-4pm
Many other groups meet for prayer, praise, bible study and much more.
Our Sunday morning worship meetings are informal in style and are open to all. Starting at 10:30 am, they have lively worship music, culturally relevant Bible teaching, and prayer. Our young people have their own Sunday Club meeting and there is also a creche. The meetings finish at 12am when there is opportunity to relax and catch up with friends over tea and coffee. Once a month we all have lunch together after the meeting.
During the week our Royal Rangers (5-17 years old) meet, and once a month on the first Saturday afternoon Birtley Messy Church welcomes parents and children (5ish -10) to meet and have fun.
Why don't you come and join us?
Some of the things we do ...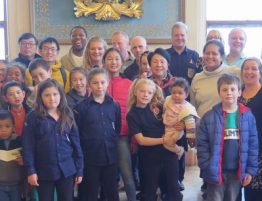 We had a great time at Minsteracres in October 2019. Richard Colbrook and Rick Thomas…