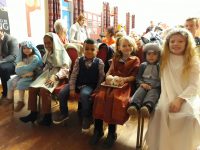 We are a friendly Family Church with a love for Jesus, which we love to share with the community around us.
Our Sunday morning worship meetings are informal and are open to all. Starting at 10:30 am, they have lively worship music, culturally relevant Bible teaching, and prayer. Our young people have their own Sunday Club meeting in the Manse where there is also a Creche. The meetings finish at 12am when there is opportunity to relax and catch up with friends over tea and coffee.
On the first Sunday of each month we all have lunch together after the meeting.
Sometimes we meet in larger celebration meetings with other churches, either locally in Birtley or across the North East of England, as part of the Taking Ground group of Churches.
Every Sunday, we have a special meeting for children aged up to 15, and crèche facilities are available too. We also have other clubs and activities for children. Check out our Young People, Royal Rangers and Messy Church pages. The photo shows some of our children preparing to perform in a play in our Christmas Carol Service.