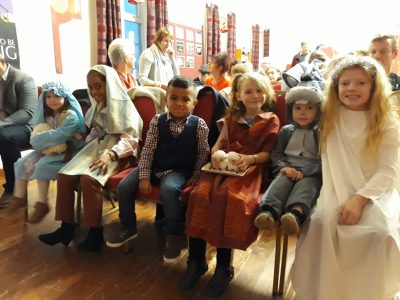 The church runs a Sunday morning crèche and activities for children up to secondary school age. The children stay in for the beginning of the service and then go out to the church manse with our team of DBS checked volunteers. The older group follow a course of bible based materials, learning about Jesus with plenty of games and tasks to make the message of Christianity interesting and relevant to their age group. Children are also involved in the main church meetings, as shown by our own cast of superstars seen in the photo, preparing for the locally produced and directed play "The First Christmas".
We also run a Royal Rangers group every Tuesday, 6-7 pm. Royal Rangers is a worldwide scouting-type organisation active in over 73 countries. Rangers includes games, activities, teaching and challenges which are designed to help us all grow socially, mentally, physically and spiritually. We provide opportunities for our Rangers to be challenged by exciting outdoor activities: we do mountain walking, camping and many other activities. A camping theme has traditionally been at the heart of Royal Rangers and we actively engage with this in our outpost, although other non-camping activities, indoors and outdoors, are included as well. The program includes a merit award system whereby Royal Rangers must demonstrate specific knowledge and abilities.
On the 1st Saturday of every month from 2pm to 4pm, Messy Church is for children 3 to 10 years of age accompanied by an adult.  It is packed with activities, fun and food. It is mainly designed for people who don't currently belong to another church.  We start with an hour or so doing a variety of different crafts and fun activities. These have been designed to explore the chosen theme of the day. This is followed by a story, an action song, and then a time together to chat and have something to eat (food is provided each time), and … it's all FREE!  Come and join us!