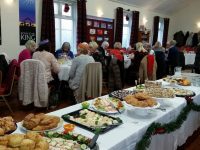 Come along and experience one of our famous BCC ladies breakfasts! You are all welcome, whether or not you normally come to church. There is also an opportunity for men to receive training through duty in the kitchen!
The breakfasts are relaxed and informal, but the quality of the food has been likened to a 5* hotel. There is always a huge range of food to choose from. We meet at 9 am and enjoy each other's company and the food for about an hour. After this, someone gives a short talk about their life experiences. Our speakers come from a variety of churches and backgrounds and have always been entertaining and interesting, whilst also providing inspiration to help counter the challenges of life.
The speaker this time will be Sylvia Mills.